Commercial and Office Cleaning Program Management
Commercial and Office Cleaning Program Management
Commerical cleaning services overview
At Capital Facility Services we deliver a range of regular and periodical cleaning programs designed specifically for the commercial office and retail sectors in Melbourne. We take our business seriously and have developed our business processes to enable continuous improvement, innovation and cost efficiencies for our clients across Melbourne.
Project management commercial office and retail cleaning programs
Our commercial, office and retail cleaning programs are developed using project management disciplines that allow us to track our progress and enable a continuous improvement approach.  A project plan is developed and managed by our Business Development and Improvement Team which is also responsible for its successful implementation and ongoing monitoring to ensure client satisfaction.
The table below provides a high level summary of our approach to designing  commercial cleaning services for our clients in Melbourne.  The same approach is used to develop office cleaning programs, retail cleaning programs and cleaning programs for the industrial sector, where we specialise in all forms of warehouse cleaning functions.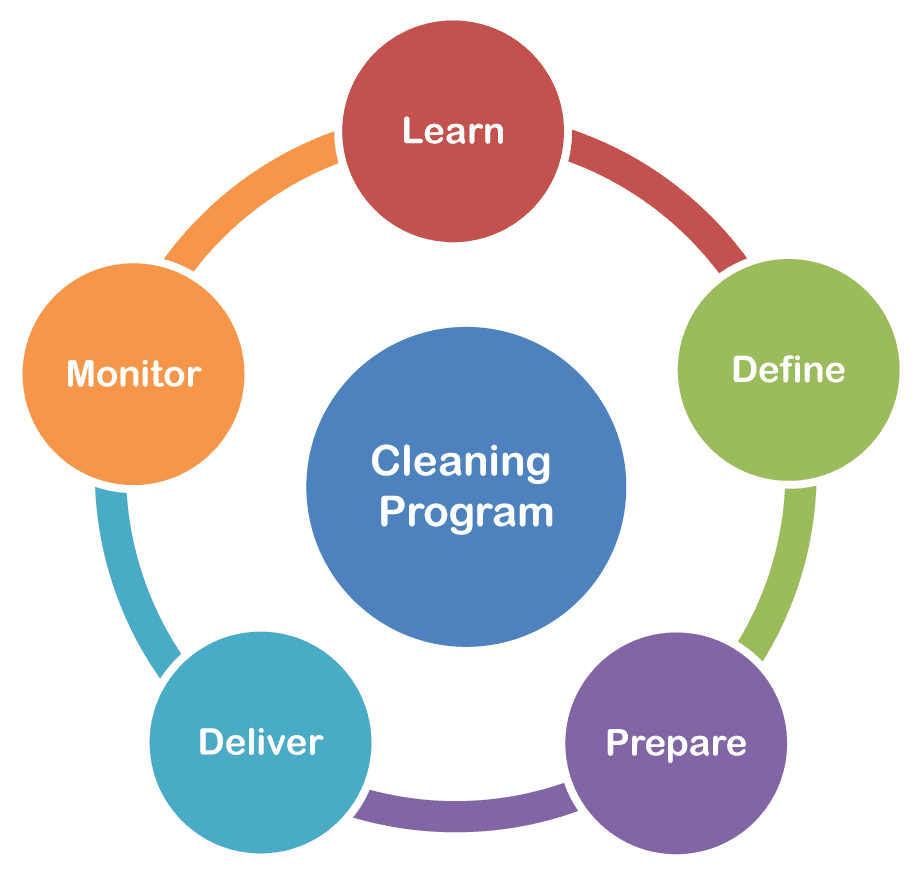 Facility Situation Analysis
Site visit and/or gfan layout review
Identify site specific OHS risks/haxards
Identify any facility damage
Determine operational issues
Identify specific reporting requirements
Existing workforce talent & job role assessment
OH&S asessment
Operational Account management melbourne commercial And office CLeaning clients
An Account Manager is allocated to service each of our existing and new commercial, office and industrial cleaning clients.  Operational Account Managers ensure that our commercial retail, office and industrial cleaning program are implemented according to the agreed schedule of works, for the agreed time, within budget and to a client satisfaction level of at least 85%.
This is the person who will conduct regular cleaning inspections and ensure the cleaning team is skilled and appropriately trained to deliver the highest standard of commercial, office and industrial cleaning.
Commercial cleaning services client help desk
A 24/7 Customer Service function  is available to all our commercial cleaning clients in Melbourne. The customer service team is on hand to assist with any urgent issues, take orders for washroom consumables and ensure any questions or concerns our clients have are managed effectively and to agreed response times. For any unresolved issue we have an escalation process that ensures any concerns are managed effectively by the most relevant person in our organisation.
Staff reliability and security
Our staff are security screened and are required to maintain updated police checks every 12 months.  They are trained on our code of ethics and abiding by this code is key requirement of employment.  Our staff must also hold relevant identification at all times and are trained on what to do in an emergency.
If a staff member in Melbourne can not attend to a cleaning program due to illness we  will use a relief cleaner to ensure that our clients cleaning program is implemented without disruption.
Commercial Cleaning program performanace reporting
As part of the set up of each new client's cleaning program reporting requirements are scoped and agreed on. Regular performance reports are generated and performance reviews undertaken to ensure continual improvement.
A program of inspections is also implemented for our commercial and office cleaning services in Melbourne.  This program ensure clients and our Operational Account Managers are working together to ensure the highest level of cleanliness is achieved in the most efficient, environmentally and OH&S friendly way
Commercial And office cleaning services health and safety program
A key part of what we do is to ensure all our staff know the safe way to do their work and follow the work safe practices we have to ensure each cleaning task is performed to the highest standard and in the safest way.   We undertake staff training, have a hotline for them to raise any ideas for improvement or to highlight any concerns regarding the commercial and industrial cleaning programs they work on.
Call us now to discuss your needs and to find out more about any of the services we offer. Our friendly team is ready to take your call and will organise an immediate response for all water, flood and fire damage emergencies.
Speak to a water damage emergency Specialist
93% Customer
Satisfaction Rating
9,800+ water & mould attendances
IICRC Certified
for 10+ years
We have the experience and practices to provide you the best-in-class commercial cleaning and disaster restoration services.
IICRC Certified
for 10+ years
93%+ Customer
Satisfaction Rating
9,800+ Water & Mould Attendances
14,500+ Service
Appointments
Steve Mastropoulos
A sewage overflow caused a big mess. The guys from Capital took it in their stride and cleaned it all up, removing contaminated items that could not be saved. Within hours our home was back to normal. Huss was great and hardworking in a very testing environment
Angela Giokas
When I receive good service I like to let other people know. Shout out to Jerry and Huss. We had a water leak and Capital facility services provided a damage assessment report and helped us with our insurance company to fix the problem. Thanks for your great work, guidance and making the process easy.
Tim Dalton
I found mould in my house and Capital came to fix the problem. They removed all the mould. I was very happy with the service they provided and also with he communication from their office. I definitely recomend Capital whether the job is big or small, their team can hadle it.
Jodie Theets
Huss and the other technician took control and cleaned and dried our wet carpet. They discovered mould issues and showed them to us and explained what had to be done. They built a containment and kept our kids same from toxic mould issues until all the mould was removed. They where true gems and we are thankful they were there to help us. Thanks from all of the Theets!
Stacey Papaevangelou
Jerry was a very helpful and professional in his manner to help with what I need done for the damages I had at home !!! Thank you Jerry my experience was made very easy .
Our Awards & Certifications