Mould Damage Removal Melbourne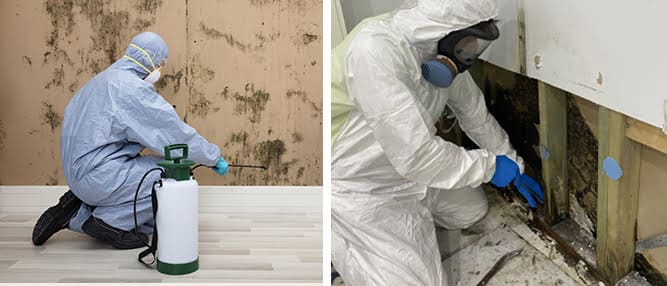 Professional Mould Removal, Mould Repairs and Mould Cleaning Services in Melbourne
Capital Facility Services specialises in providing professional mould removal and mould damage cleaning and restoration services across Melbourne. We are certified by the Institute of Inspection, Cleaning and Restoration (IICRC) in Applied Mould Remediation for our mould remediation service and follow their standards in all mould removal, mould cleaning and mould remediation programs we manage.
Some facts you should know about mould
Mould is a fungus that forms and reproducers via micro spores that travel through the air and attach themselves to moist environment. Mould should be contained so that it does not continue to spread.
Mould has different forms and may not always be easy to identify. It could look like a stain or a smudge or it could appear to be discoloration or look like "fuzz." Mould is not always easy to recognise. The most common moulds are black, green, or white. You may not always see mould, sometimes you will smell it. It could be hidden behind furniture, inside cupboards, in your roof cavity or under your house.
Mould will grow in damp and poorly ventilated environments. Mould loves moist and humid environments and seeks out organic matter from which it sustains itself and spreads, such as wood or dirt on surfaces. Mould also tends to digest synthetic materials like paints and adhesives.
To prevent and reduce mould issues in your home you must remove the moisture and humidity from your environment. If the moisture levels in your home or business continue to be high the mould issue will continue to appear and spread. No one can guarantee that mould will not reappear in a humid environment, so be aware!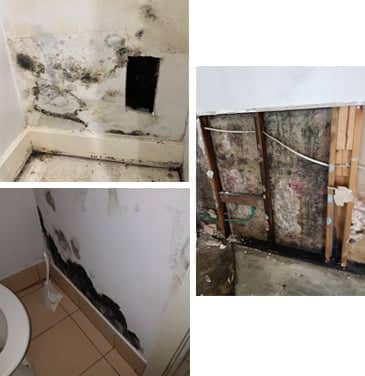 Our 8-step mould damage removal and cleaning process ensures we address all aspects of mould contamination quickly as it is unsanitary and harmful.
We know this is a stressful time, so we want to ensure you, that it is easy for you to understand the steps involved to address your mould issue and are happy to answer any questions you may have.
1
Inspect and
Access Mould
3
Contain Mould
Affected Environment
4
Eliminate Cause
of Mould
7
Reinstate Mould
Affected Areas
8
Attendance &
Insurance Reporting
1
Inspect and
Access Mould
Mould contamination online review and onsite mould assessment:
An assessment is undertaken before any mould removal or mould cleaning is performed by our Mould Removal Specialists in Melbourne.
Online mould removal reviews and estimates are provided free of charge
We will give you a guide on what we think might be required. These reviews are not always sufficient to address all unknown issues that can be addressed by an onsite assessment but are a good way to start the dialogue of what might be required.
Detailed onsite professional mould removal assessments
Through an onsite Mould Contamination Assessment our aim is to identify the cause of the mould growth, so we can determine the best way to address it so that the mould does not keep growing back. Where necessary we will organise laboratory-based mould testing by qualified hygienists. If the mould issue is not extensive, we may be able to contain it during the initial assessment to reduce the risk of it spreading. There is a fee associated to this service.
3
Contain Mould
Affected Environment
4
Eliminate Cause
of Mould
7
Reinstate Mould
Affected Areas
8
Attendance &
Insurance Reporting
Speak to the Mould Damage Removal Specialists
Speak to a water damage emergency Specialist
93% Customer
Satisfaction Rating
9,800+ water & mould attendances
IICRC Certified
for 10+ years
We have the experience and practices to provide you the best-in-class commercial cleaning and disaster restoration services.
IICRC Certified
for 10+ years
93%+ Customer
Satisfaction Rating
9,800+ Water & Mould Attendances
14,500+ Service
Appointments
Steve Mastropoulos
A sewage overflow caused a big mess. The guys from Capital took it in their stride and cleaned it all up, removing contaminated items that could not be saved. Within hours our home was back to normal. Huss was great and hardworking in a very testing environment
Angela Giokas
When I receive good service I like to let other people know. Shout out to Jerry and Huss. We had a water leak and Capital facility services provided a damage assessment report and helped us with our insurance company to fix the problem. Thanks for your great work, guidance and making the process easy.
Tim Dalton
I found mould in my house and Capital came to fix the problem. They removed all the mould. I was very happy with the service they provided and also with he communication from their office. I definitely recomend Capital whether the job is big or small, their team can hadle it.
Jodie Theets
Huss and the other technician took control and cleaned and dried our wet carpet. They discovered mould issues and showed them to us and explained what had to be done. They built a containment and kept our kids same from toxic mould issues until all the mould was removed. They where true gems and we are thankful they were there to help us. Thanks from all of the Theets!
Stacey Papaevangelou
Jerry was a very helpful and professional in his manner to help with what I need done for the damages I had at home !!! Thank you Jerry my experience was made very easy .
Our Awards & Certifications