Do you have flooded carpet that needs drying?
If a burst pipe, overflowing gutters or any other type of water ingress has caused a flood in your home or business and your carpet is saturated, make sure you call an expert Water Damage Restoration company to extract the excess water and set up an effective carpet drying process.
Flooded carpet that is not dried properly will turn into mouldy carpet!
As can be seen from the photo opposite, if water sits in the carpet and is not properly extracted, it will result in mouldy carpet. Unfortunately, mouldy carpet and mouldy underlay cannot be fixed, so the moulded section will need to be cut out and your carpet may need to be replaced. To avoid this problem ensure your carpets are assessed by a professional Water Damage Restoration company, that will also know how to extract the excess water before commencing the drying program.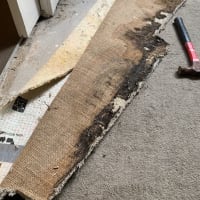 Check out this video. Do you think you can remove excess water using towels?? You can see and hear how saturated the carpet is.
It is impossible to absorb all the excess water from a flood using towels and turning on the heater will not result in dry carpet either. When there is excessive water in carpet and wet carpet underlay, it needs to be extracted using the correct water extraction processes and this must be done quickly. A professional flood damage restoration service will ensure excess water is extracted using special machines that will absorb all the water from the deeper layers below.
Water Extraction Before Flooded Carpet Drying
At Capital Facility Services our Water Damage Restoration Technicians use special extraction machines to absorb the water from flooded carpet. Check out these videos for an insight into how our Water Damage Restoration Technicians remove excess water from flooded carpet in Melbourne homes and businesses.
Water extraction must happen as soon as possible after the flooded carpet situation so that the risks of secondary damage are minimised. Risks include mould growth, as mould loves to grow in moist environments. Mouldy carpet cannot be restored and will need to be removed and disposed.
At Capital, we provide professional mould removal services across Melbourne, but we would prefer to be engaged to extract water and dry flooded carpet, instead of being called to deal with mould issues that are expensive to manage and can be toxic to human health.
Flood Damage Restoration Melbourne Service
Capital Facility Services provide a professional Flooded Carpet Drying service in Melbourne. As part of our flooded carpet drying service, we undertake detailed flood damage assessment and ensure that any excess water is extracted, before the flooded carpet drying equipment is set up to dry flooded carpet and other wet structures.
We also assess if the water ingress from a flood of any sort has affected the structure of the home or business, including skirting boards, plaster, subfloor etc. We also address the structural water damage and ensure effective drying is set up to avoid compromised and mouldy structure.
If you have flooded carpet and require professional flooded carpet drying services in Melbourne call Capital Facility Services any time on 1300 554 418. We provide a 24hr service to ensure flood damage is addressed without delay.