Water Damaged Carpet Drying Is Our Thing!
At Capital Facility Services, drying wet carpet is what we are known for. We know that having water damaged carpet is a stressful time and our team of Water Damage Specialists aim to dry your wet carpet fast and efficiently using the best practice techniques available.
So, if you have a water damage carpet emergency call us 24/7 on 1300 554 418 and a member of our team will come to your home or business fast, as we know that water damaged carpet can turn into mouldy carpet that can't be saved.
Helpful Hints on What You Can Do Before We Arrive
Consider turning off water mains – If you have burst or leaking pipes or jammed taps that you can't run off, make sure you turn off the main water supply, so that the overflow of water stops, and you prevent additional water from continuing to add to your water damage carpet issue.
Think about switching off electricity mains – If water is rising, make sure you switch off your electricity supply at the mains. We all know that electricity and water are a recipe for disaster!
Move furniture off the water damaged carpet – Eliminate the risk of water damaged furniture by moving furniture and other valuables off water damaged carpet.  Your furniture will absorb water and will be damaged if it sits in water for too long.  As you can see from the thermal image opposite, furniture sitting on water is very likely to be damaged.
If furniture is too heavy to move, elevate it off wet carpet – We recommend that if it is not possible to move heavy items of furniture, you should elevate it.   If you have foam blocks, these are perfect to elevate your furniture off carpet water damage.  If not, you can easily make small blocks using aluminium foil and place these under the legs of chairs, tables, couches, beds etc.  Your aim is to create a gap between your furniture and the water damaged carpet, so by elevating your furniture off the wet carpet, you will reduce the amount of water it absorbs.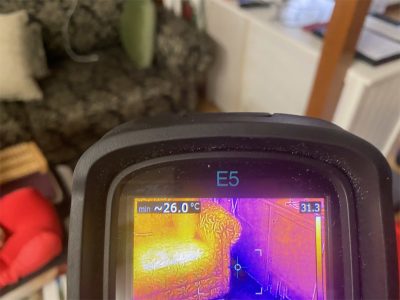 Lift window furnishings off water damaged carpet – By lifting your drapes and curtains off the carpet water damage, you are preventing any further damage to both.
Move loose rugs off water damaged carpet – If your rugs are not too heavy from the water they may have absorbed, you should lift them off the wet carpet and if possible, hang them outside in the fresh air. Point them out to our Water Damage Specialists so they can consider them in our water damage carpet cleaning and drying program when they arrive.
Maximise air circulation in water damaged rooms – You should increase the air flow in your home or business by simply opening all doors and windows. By reducing the moisture levels in your home or business, you will be helping to reduce damage to your property and content. When we arrive, we can take over and commence a thorough water extraction and water damage carpet drying program.
Commence removal of excess water, where possible – You can use a mop or light-coloured towels to soak up as much of the excess water as possible. Colour from darker towels could run onto and stain your carpet, so be very careful. Beware – you must not use a vacuum cleaner to soak up excess water, as this is extremely dangerous and could result in electrocution!
Engage a Professional Water Damage Restoration Service – Call an IICRC certified Water Damage Specialist, to access your water damage and to undertake an industry standard water extraction and wet carpet drying program. Capital Facility Services is certified and can be contacted 24/7 on 1300 554 418 for all your water damage carpet drying and water damage carpet cleaning needs. The sooner we attend to your carpet water damage, the better the outcome, as it will prevent any further damage and of course any further expenses to your restoration bill.