Capital Facility Services has been providing professional mould removal and mould cleaning programs in Melbourne for many decades. Over this time, we have built up extensive experience in the identification of hidden mould issues, particularly under the house.
Check under your house for mould growth
Poor drainage results in water collecting and sitting under many buildings in Melbourne, further to this, slow pipe leaks that go undetected, can result in a build-up of water that sits idle under buildings. The outcome is a contained environment of undetected moisture that over-time, results in significant mould growth. The mould can attach to bearers and joists and might be noticed through the flooring at some stage, but by then, a significant mould issue is likely to have manifested.
We have many calls from Melbournians telling us there is a musty smell around, but they can't see any mould. Others call us because there is a sewage like smell outside their house, others see water build up around their property and become concerned. All are valid reasons to check what is happening in the cavity below the subfloor.
Check these images to see how mould can spread quickly under your home if it is moist or holding water: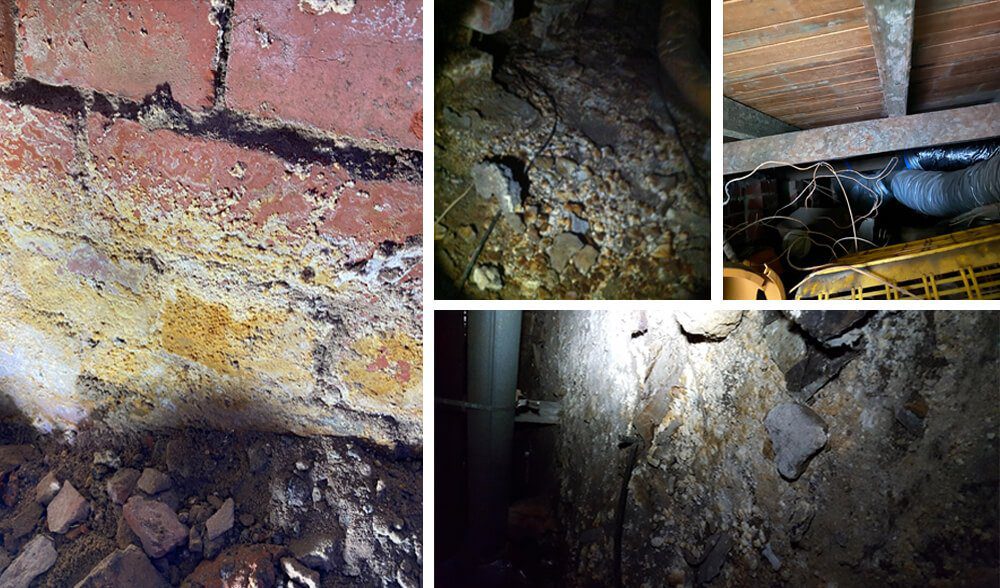 Capital's Under house mould inspection Melbourne service
At Capital Facility Services our Mould Remediation Specialists can inspect under your home to investigate any moisture and mould growth issues. If access is not possible, it may be required that a section of flooring is carefully removed to allow access for inspection.
Our Mould Removal Specialists will use special equipment to determine moisture levels under your home and will look for signs of mould, as required swabs can be collected for laboratory testing.
After conducting a detailed mould inspection and assessment, our Mould Removal Specialists can identify if there is a water ingress or moisture issue and how it can be addressed as well as creating a plan to contain and remove the mould from the affected ground and structures, such as joists, rafters, and the subfloor of your home.
We can then provide you with a report of our findings, a scope of works and a quote for the work we recommend be undertaken for your specific mould removal program. Our report can be used to support any insurance claim that may result from our findings.
Mould Removal can't be guaranteed if the source of water ingress isn't addressed
Any water sitting under your house will need to be extracted or pumped out before the mould removal and mould cleaning program can commence. The source of water ingress and moisture will need to be identified and fixed. If the source of water ingress is not rectified then moisture will continue to build and the mould will return and will continue to damage your building, as well as compromise the health of people exposed to it.
Capital Facility Services can assist you to identify and resolve water ingress and mould growth issues under your home or any type of building. We are certified by the IICRC for mould remediation and have extensive knowledge and experience in the mould removal and mould cleaning sector in Melbourne. Call us on 1300 554 418 to discuss any mould issue and we can provide advice and let you know how we think you should move forward.