Fire Damage Restoration Tips From IICRC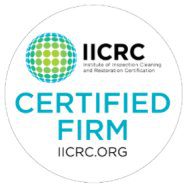 capital facility services lead fire restoration techniclans have been accredited with iicrc, so you can be confident you are dealing with qualified experts.
To refurbish a smoke or fire damaged home and return it to its original condition, IICRC recommends that you contact a professional who is certified in fire and smoke damage restoration. Homeowners may be tempted to perform complete clean up on their own, but many times this can make conditions worse.
Professional restoration technicians are always time conscious. They know that damage increases and restoration costs escalate the longer neutralization, corrosion control and cleaning is delayed. When homeowners prolong the restoration of their home, they extend the effects brought on by the smoke exposure.
In addition to the removal of residue, ridding your home of its smoky odor is necessary. Professionals use this four-step process to remove odors:
within minutes
within hours
within days
within weeks
within minutes
Acid soot residues cause plastics to yellow; small appliances located close to the source of combustion discolor; highly porous materials (marble, alabaster) discolor permanently.
within hours
within days
within weeks
Cleaning up soot residue must be done as quickly as possible. During combustion soot residue is carried by humidity, volatile vapors and air currents to surfaces throughout a structure, and deposited. This deposition process occurs repeatedly until combustion ends, with soot residue building up on surfaces layer-by-layer. By the time restoration technicians arrive, the hardened, lacquer-like soot residue may be quite difficult to dissolve and remove.
Remove the source of the odor, including unsalvageable debris that contributes to odor generation and recontamination of cleaned and deodorized areas.
Physical removal of odor causing residue through cleaning of salvageable surfaces and items.
Recreate the conditions of odor penetration and apply an appropriate odor counterbalance. This is accomplished with direct application of deodorants, or by generating a deodorizing fog that seeks out and combines with the odor causing substances.
Finally, seal salvageable surfaces that are inaccessible or slightly scorched – not only for aesthetic purposes, but primarily to encapsulate odor and prevent progressive recontamination.
Understanding the effects of a fire can help homeowners evaluate the damage to their home. By learning more about residue clean up and deodorization after a fire, you can minimize the need for costly repair. Don't hesitate to discuss these procedures with a trained fire and smoke restoration professional, because increasing your knowledge will ensure that your home is correctly restored. Fire and smoke restoration experts can help you get your home and furnishings back to a "pre-loss" condition.