Water Flood And Fire Damage Restoration Techniques Engaged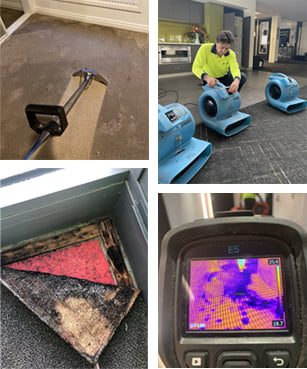 More than just removing excess water, we have the knowledge and equipment to further dry a home or facility (including substructure materials) completely back to pre-loss conditions. Through timely response and the careful monitoring of water damage, mold and other health issues can be prevented. If water damage has been present too long, mold will occur.
We have the training and experience to identify moisture sources, evaluate mold growth (visible or suspected), contain damage, remove contamination and dry materials to ensure that mold will not return.
Simple overview of what we do at Capital Facility Services to restore a fire damaged, water or flood damaged environment.
General cleaning to address water | flood or soot | smoke damaged areas
Extraction of water from upholstery, carpet and other hard floors using specialised water extraction machinery
Dehumidifying machines are used to pull moisture from the air and return warm to enable drying and to prevent mould and mildew damage in both the structure and contents
Wet smoke removal from low heat – pungent, sticky odour removal
High power portable fans are used to dry all surfaces, including carpet, upholstery and drapery.
Deodorising is undertaken to absorb and remove odours and refresh the damaged environment
Clean up of soot fallout from dry smoke using special heavy duty vacuums.
Removal of damaged material and damage residue
Remove and replace damaged underlay from floor coverings.
Remove and dry carpets, relaying to original state.
Steam clean carpets and upholstery
Manage all varieties of sewer backup issues
Re-plastering and plaster repairs resulting from water and fire damage
Painting of damaged areas once water and fire damage has been repaired
Provision of reporting to accommodate requirements of insurance companies
24 hour emergency service provided