A Water Damage Restoration Company is an organisation that specialises in the mitigation of water damage to quickly address and stop water damage impacts on fixed structures and content that are saturated as an outcome of excessive water ingress. The aim is to remove excess water and to dry wet carpet and other wet structures that can be salvaged. Where water damaged content and structures can not be salvaged the aim is to remove them as soon as possible to protect and dry the structures that they are in contact with or which may be exposed to secondary effects of flooding and water damage.
Water Damage Restoration Companies Are Not Known until they Are Needed!
Most of our clients who find us through google have never heard of us, nor have they ever known that there are specialised water damage cleaning and restoration contractors dealing specifically with the mitigation, recovery and reinstatement water damaged homes, apartments, warehouses, retail outlets and other commercial premises.
They have never heard of us because they have never needed our assistance. But when they experience water-damaged carpet or need access to flood cleaning services, they are quick to find us.
So, Who Are We? Capital Facility Services – A leading Water Damage Restoration Company in Melbourne.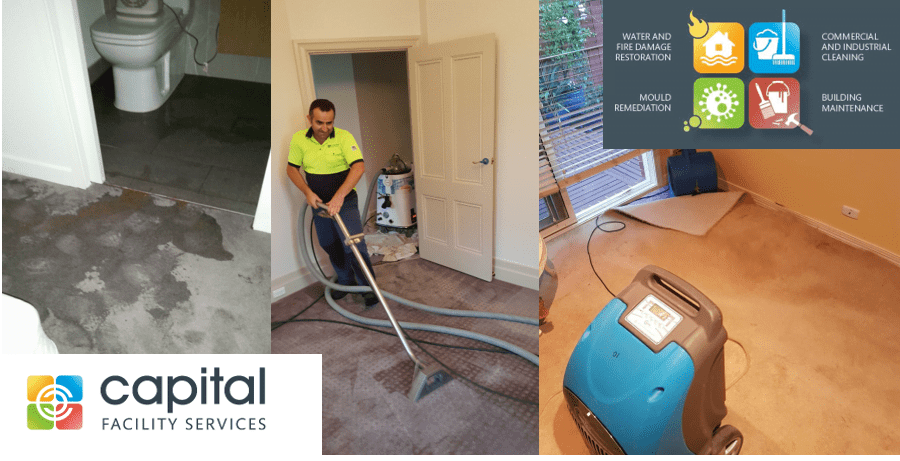 We have been managing water damage restoration and flood cleaning services across Melbourne for more than 10 years and handle more than 1,000 flood damage cleaning and water damaged carpet drying programs each year.
We are a small business that has held the Institute of Inspection Cleaning and Restoration Certification (IICRC) since our inception. Our Director Jerry Lazaris is hands on and ensures all water damage restoration and wet carpet drying programs undertaken by Capital are executed according to IICRC standards in a timely manner that is timely and cost effective for our clients. Our quality, safety and environmental processes are accredited, plus we are highly recommended achievers in the 2018 Australian Achiever Awards. We know water damage restoration!

We will not only dry your water damaged carpets and other water damaged structures in your premises; such as subfloors, walls and ceilings. We are also well known for our reinstatement programs that aim to rebuild your home or business to its pre-loss condition. We can organise and manage all required trades directly, so you do not need to deal with and try to coordinate multiple contractors.
If you are unlucky to be affected by water damage resulting in wet carpet, flash flooding and other water damage and are in or around Melbourne, call us on 1300 554 418. At Capital, we are available 24/7 to tend to your water damage.
When will you need to call Capital for your Water Damage Cleaning and Flood Cleaning and Restoration Needs?
Some common causes of Water Damage we address in our Water Damage Cleaning and Wet Carpet Drying Programs Across Melbourne include;
Burst Pipes causing flooding
Running Taps causing flooding
Sewage Overflow Clean Up
Down pipe backflow
Washing machine or dishwasher overflows
Leaking Roofs
Flash flooding after during sudden storms
If you are unfortunate to be affected by water damage resulting in wet carpet, wet and damaged flooring, wet walls and ceilings, call Capital at any time on 1300 554 418.
You will probably have never heard of us before but be sure we are certified, skilled and experienced in flood cleaning and water damage restoration. We will do everything in our power to restore your water damaged premises to its pre-damaged condition. We deal with over 1,000 water damage restoration and flood cleaning programs a year, so have peace of mind that we know what we are doing and can help you. You'll be glad you met us!!