At Capital Facility Services the main request we get from our clients, both directly and through insurance claims, is for Wet Carpet Drying in Melbourne. We find that when we are alerted of water damage and extract water quickly; followed by the installation of a tailored drying solution our clients avoid costly restoration bills and lengthy restoration timelines.
Why Choose a certified Restoration Company to undertake a Water Extraction and Wet Carpet Drying Program?
The answer is a simple one. The average Melbournian does not have the skills or tools required to properly remove water from their wet carpet. Towels are not enough to suck up excess water that can reach and sit on the subfloor.
We find that when homeowners try to remove water, from wet carpet, using towels and the like they only soak up surface moisture. Specialist extraction equipment is required to suck up water from deeper levels in wet carpet, as well as from the underlay and below. Only a trained professional knows how to best use specialist extraction equipment to maximise the amount of water that can be removed from your wet carpet.
What may look like and feel like dry carpet to touch after a flooding incident, is not likely to be a true indicator of what is happening below the surface. In most instances after a few days carpet starts to smell musty and could start to show signs of deterioration and mould. This is a sign of trouble. Water is lurking in the carpet and the moisture has become a breading ground for unhealthy, toxic mould.
Capital Facility Services we use special monitors to detect water, as well as thermal cameras to determine the extent of the liquid spread across your carpet (see photos below). As such we are equipped with information to develop a water extraction and wet carpet drying program for our clients that is specific to their situation.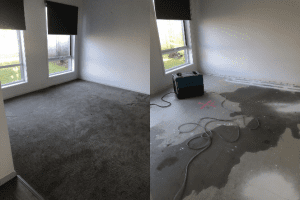 The image opposite is an example of wet carpet that the homeowner thought was only slightly wet and tried to dry with towels. Luckily, the homeowner's wife insisted to call in the experts at Capital Facility Services to access their wet carpet in Melbourne and to implement a wet carpet drying program. The carpet was beyond repair and need to be removed with an extensive drying program being undertaken to dry the subfloor
And this next image is an indicator of what happens when wet carpet is not dried properly. Mould will start to appear! Mould is toxic and not safe. If you see signs of mould on your carpet, make sure you have an expert remove it using safe processes to ensure you do not encourage further contamination of your home during the carpet removal process.

Call the Wet Carpet Drying Melbourne Experts if you have wet carpet.
At Capital Facility Services we have the skills, tools and expertise to dry your carpet quickly and cost effectively. We will use our specialised monitors to determine the extent of the damage and will determine if your carpet can be salvaged or not. We will extract water and if needed we will lift your carpet to ensure it is properly dried bottom up. We may need to remove your underlay and have new underlay installed; we will let you know if this is needed. Alternatively, it may be that top drying is appropriate for your situation. We will determine the best program for you, and we will discuss it with you before we do anything.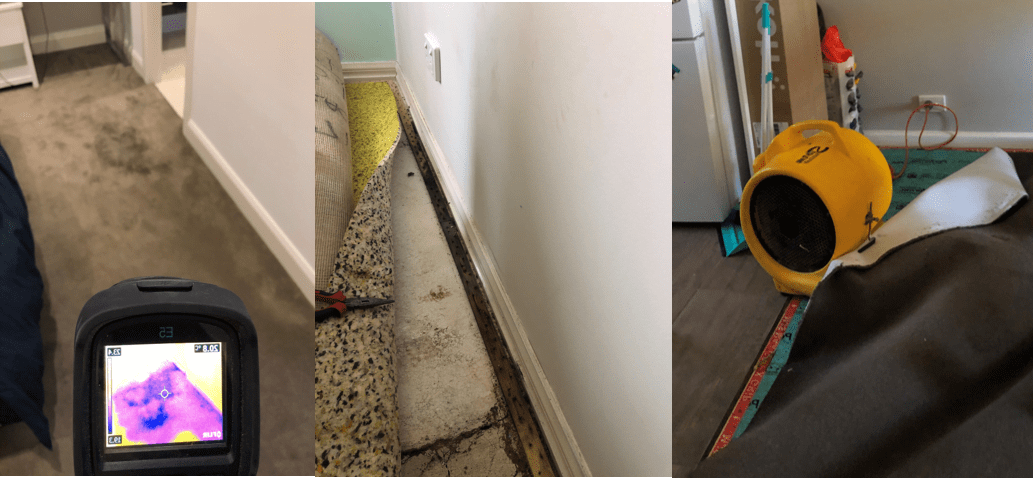 Remember to call Capital Facility Services, immediately if you have an incident that results in your carpets being flooded or water damaged. Wet Carpet Drying in Melbourne is what we do best! We are certified by the IICRC and have been drying wet carpet in Melbourne for over a decade. Contact us any time on 1300 554 418 for advice on what to do if you are in Melbourne and unfortunate to have flooded carpet.