Drying wet carpet is something Capital Facility Services does well, having managed many thousands of wet carpet drying programs in Melbourne over the past 10 years.
Capital Facility Services have the skills, expertise, equipment, and knowledge to dry your wet carpet and they will let you know if it is not salvageable due to extensive damage that is not restorable.
The Water Damage Restoration Technicians at Capital Facility Services use Thermal Cameras and other specialised equipment to determine the extent of the water damage on wet carpet, flooring, walls, ceilings, and other structural services in properties.
Wet Carpet or Dry?? What do you think?
Recently, a client of Capital, believed they had dried the wet carpet in their water affected bedroom and thought that only the walk-in robe required wet carpet drying. The client had used towels to dry their wet carpet and thought they had done a pretty good job in the bedroom walkway.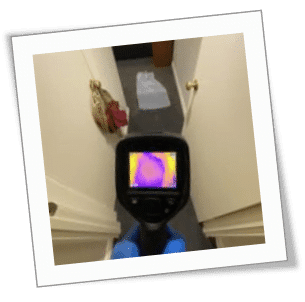 The Capital Facility Services Water Damage Restoration Technician, attending the issue, knew better and pulled out his thermal camera. He took the image you see opposite with his thermal camera. The blue/purple shows where there is extensive water saturation, surprisingly it is the exact area the client was insisting did not need drying.
Using his thermal camera, the Water Damage Restoration Technician was able to show the client that they had not dried the wet carpet, in fact, it was very saturated, and water had penetrated through to the underlay and the subfloor.
It was easy to show the client extent of the water damage using the thermal image.
Wet Carpet Drying done right!
If water is left in carpet, underlay, or travels up walls, it will cause secondary damage and mould infestation is highly likely, making for a bigger and more expensive problem.
Make sure your wet carpet drying is done properly. The best drying program starts with effective diagnostics and Capital Facility Services know exactly what to do.
They can even provide detailed reports to support Insurance claims relating to wet carpet drying in Melbourne.
Wet Carpet Drying = Capital Facility Services
If you need to dry wet carpet call Capital Facility Services at any time on 1800 554 418. They are IICRC certified and manage over 2,000 water damage restoration projects each year. For emergency wet carpet drying in Melbourne, they are available 24/7 and aim to get to your place within 1-2 hours.