Water Damaged Carpet Cleaning
Water Damaged Carpet Cleaning Melbourne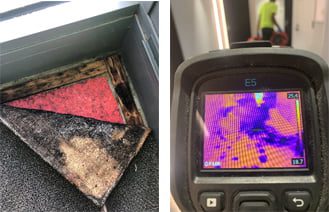 24×7 Rapid Response Service For all Flooded Carpet and Wet Carpet Drying Emergencies Across Melbourne
Wet and flooded carpet creates an attractive environment for mould to breed, grow and spread. If you leave wet carpet unattended you will eventually be alerted to the smell of damp and will see the mould grow. Alternatively, you may smell the dampness but cannot see any visible mould as it may be growing under your carpet and spreading but is not yet visible to you.
The issue of wet carpet can become a huge and expensive
exercise of mould removal something that can be avoided with the quick engagement and action of a Water Damage Specialist Service. If your carpet is left wet for more than 2-3days, it is very likely that it will be unsalvageable due to extensive contamination and mould damage.
To avoid these problems at Capital Facility Service, we offer a 24×7 emergency wet carpet drying service; where a qualified Water Damage Restoration Technician will aim to commence the assessment and make safe program within one hour from your call across any part of Melbourne.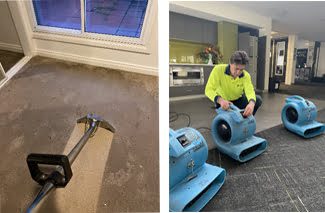 We use qualified
Water Damage Restoration
Technicians to project manage and lead all our water damage restoration programs. Our Water Damage Restoration Technicians are certified from the Institute of
Inspection Cleaning and Restoration
, so you can be confident you are dealing with experts in the field of wet carpet cleaning and wet carpet drying.
There is a specific 6-step process we follow to ensure your wet carpet is dried quickly and is free from water damage stains and smells.
2
Make Safe &
Extract Water
3
Eliminate
Contaminates, Odour
and Poor Air Quality
4
Wet Capet Drying
and Moisture
Control Program
5
Carpet Repair &
Structural Reinstatement
6
Activity &
Insurance Reporting
Our first step is to inspect the flooded carpet damage and determine the source of water ingress, as well as the extent of the water damage to your carpet, content, and other building structures.
We use specialised moisture monitors to measure the water saturation levels, humidity and other important metrics. Our Water Damage Specialists also uses thermal imaging to assist them to determine the extent of water damage and the source of the water ingress.
We identify if the water damage is from clean or contaminated water sources, as well as the extent of water absorption and then design an appropriate water damage cleaning and wet carpet drying program. Toilet or sewerage overflow, for instances, is dirty water that may require us to pull up and remove your wet carpet due to the heavy contamination. Similarly, if there is mould on your carpet, the affected area will need to be cut and disposed.
Learn more about the different categories and classes of water damage
Our qualified water damage restoration technicians will analyse your specific situation and will develop a customised carpet water damage restoration and structural drying program.
We will let you know if we believe you should remove your wet carpet and have it replaced, instead of attempting to dry and clean it. Even if your flooded carpet and underlay is not salvageable, excess water will need to be removed and the subfloor will still need to be dried out, as will any other water damaged structures
We can then organise for new carpet to be laid and can also document our findings and recommendations in a report you can provide to your insurance company to help with any insurance claims you make regarding the water damage to your wet carpet.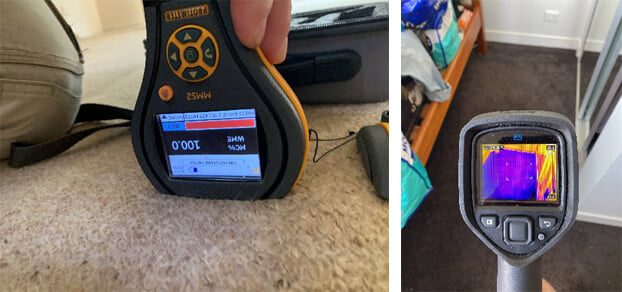 2
Make Safe &
Extract Water
3
Eliminate
Contaminates, Odour
and Poor Air Quality
4
Wet Capet Drying
and Moisture
Control Program
5
Carpet Repair &
Structural Reinstatement
6
Activity &
Insurance Reporting
Speak to the water damaged carpet cleaning and drying Specialists
Speak to a water damaged carpet cleaning and drying Specialist
93% Customer
Satisfaction Rating
9,800+ water & mould attendances
IICRC Certified
for 10+ years
We have the experience and practices to provide you the best-in-class commercial cleaning and disaster restoration services.
IICRC Certified
for 10+ years
93%+ Customer
Satisfaction Rating
9,800+ Water & Mould Attendances
14,500+ Service
Appointments
Handy tips on what to do if you have water damaged carpet
It is important to know that the longer you leave wet carpets saturated, the damage will spread and become a bigger problem for you. Water from your wet carpets will penetrate the subfloor, walls and structures. Mould and mildew will start to form in the moist environment and overtime could become a significant problem for you.
Water damaged carpet cleaning emergencies are our specialty, and we will endeavour to be at your home or commercial facility within an hour, if you are in Melbourne. We move fast as we know how quickly water damaged carpet can become a massive water damage problem requiring an intensive restoration program. Call us now to discuss your problem and attend within the hour to clean your flooded carpets.
In the meantime, follow our handy tips on what you can do before we arrive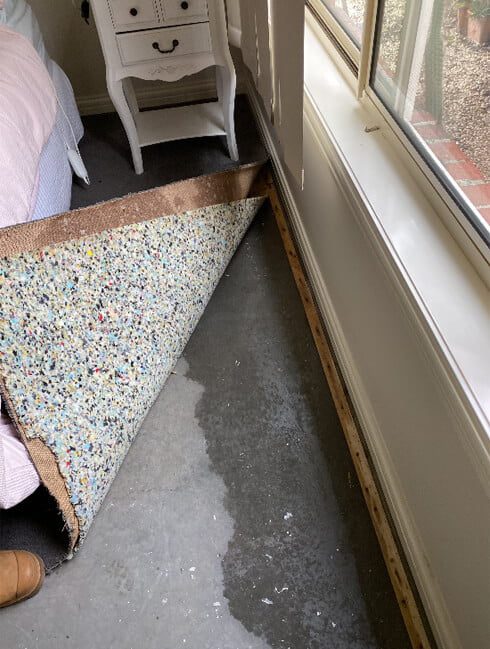 Steve Mastropoulos
A sewage overflow caused a big mess. The guys from Capital took it in their stride and cleaned it all up, removing contaminated items that could not be saved. Within hours our home was back to normal. Huss was great and hardworking in a very testing environment
Angela Giokas
When I receive good service I like to let other people know. Shout out to Jerry and Huss. We had a water leak and Capital facility services provided a damage assessment report and helped us with our insurance company to fix the problem. Thanks for your great work, guidance and making the process easy.
Tim Dalton
I found mould in my house and Capital came to fix the problem. They removed all the mould. I was very happy with the service they provided and also with he communication from their office. I definitely recomend Capital whether the job is big or small, their team can hadle it.
Jodie Theets
Huss and the other technician took control and cleaned and dried our wet carpet. They discovered mould issues and showed them to us and explained what had to be done. They built a containment and kept our kids same from toxic mould issues until all the mould was removed. They where true gems and we are thankful they were there to help us. Thanks from all of the Theets!
Stacey Papaevangelou
Jerry was a very helpful and professional in his manner to help with what I need done for the damages I had at home !!! Thank you Jerry my experience was made very easy .
Our Awards & Certifications