When your property is damaged by a flood of any type, it can be very stressful and it's natural to want it fixed fast, so life gets back to normal. There are factors that affect how long a flooded property takes to dry.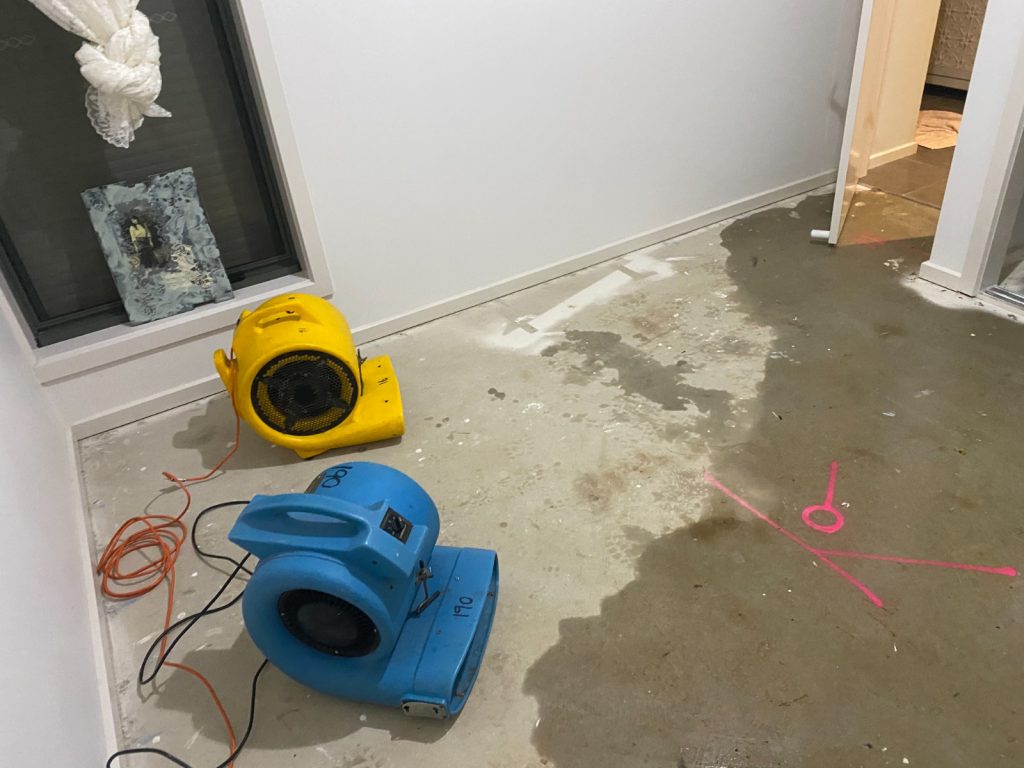 How long your property takes to dry depends on what caused the flood and what items have been affected. There are different categories and classes of water damage that professional water damage specialists can help you to identify. The lower the class and category, the quicker the flood damage cleaning or flood damage restoration will be. If your property is saturated from either a sewerage leak or torrential rain, it will take much longer to rectify the problem.
If the flood source can be stopped the process of excess water extraction can commence and the drying process can start. The sooner the drying and moisture control program commences the less likely the affects of water damage will spread to unaffected surfaces and the less likely your property will be affected by mould that grows and thrives in moist environments.
Once the flood source is stopped, it is vital to act quickly to avoid secondary damage. However, never use a vacuum to extract water from a flooded area due to the risk of electrocution. You are best of engaging a specialist flood damage cleaning company such as Capital Facility Services. Hiring a specialist will make the process safer and quicker. They use specialised equipment and processes to extract water from your carpet. Check out these videos to see how they may do it.
Sewage contamination requires the removal of the contaminants in the first instance. Carpet and other porous flooring that is contaminated by sewage is unlikely to be salvageable and may need to be removed and disposed and the surrounding areas sanatised and treated before drying commences.
If there are signs of mould growth the affected areas will need to be sealed and contained immediately. In most cases the mould will need to be carefully removed and disposed before the drying commences. During this phase special industrial Air Purification devices are used to trap mould and other contaminants and to prevent their further spread.
Drying Your Flooring and Structure
It is not recommended that a flooded property is left to dry out naturally and it is advised to start the drying program as soon as possible, but only after the above mentioned items are addressed.
Airflow, temperature, and moisture levels need to be managed with specialised equipment depending on the category and class of damage, this is a complicated process that requires the expertise of professional water damage restoration technicians, like those at Capital Facility Services.
In some instances, flooring may not be salvageable and drying may not be warranted, a professional water damage restoration company can advise you if this is the case. However, even if your carpet or flooring cannot be salvaged you may still need drying and moisture control to save your sub-floor, walls, ceiling, and other water damaged structures.
You can expect the drying stage to take about three to five days, but this can vary depending on the extent of damage and the condition of the affected areas.
For Peace of Mind Engage Professional Water Damage Restoration Services in Melbourne
Hiring a reputable flood damage restoration and cleaning service provider is the quickest and most efficient way to manage flood damage and get your life back on track quickly. The drying stage itself can take up to five days or more, but on average takes around three days. However, the sooner the water damage is addressed, the quicker your property will be dried without secondary damage presenting itself.
Contact us on 1300 554 418 for emergency assistance or visit our website for further information on how we can assist.